food-ordering platform.
-----------------------
ILLUSTRATOR
FIGMA
SKETCH


I designed a site that lets users order food by searching for individual dishes rather than by restaurant or category of food.

While mainstream food-ordering services provide a plethora of options for discovering new restaurants and promotions, I wanted to simplify the process for people who know what they want to eat and give a step-by-step approach to efficiently get the best rated dish of their choice from a vendor to their home.

Rather than trying to redesign the same few food delivery apps, I wanted to focus on a simpler, more convenient niche to fill. Platforms like Grubhub and Doordash add plenty of exploratory aspects that convey a diversity of restaurants, but most of the time, people ordering takeout will order from the same types of restaurants.

Most of the clutter from these homepages can be avoided with more visual contrast between icons and less display of unnecessary information.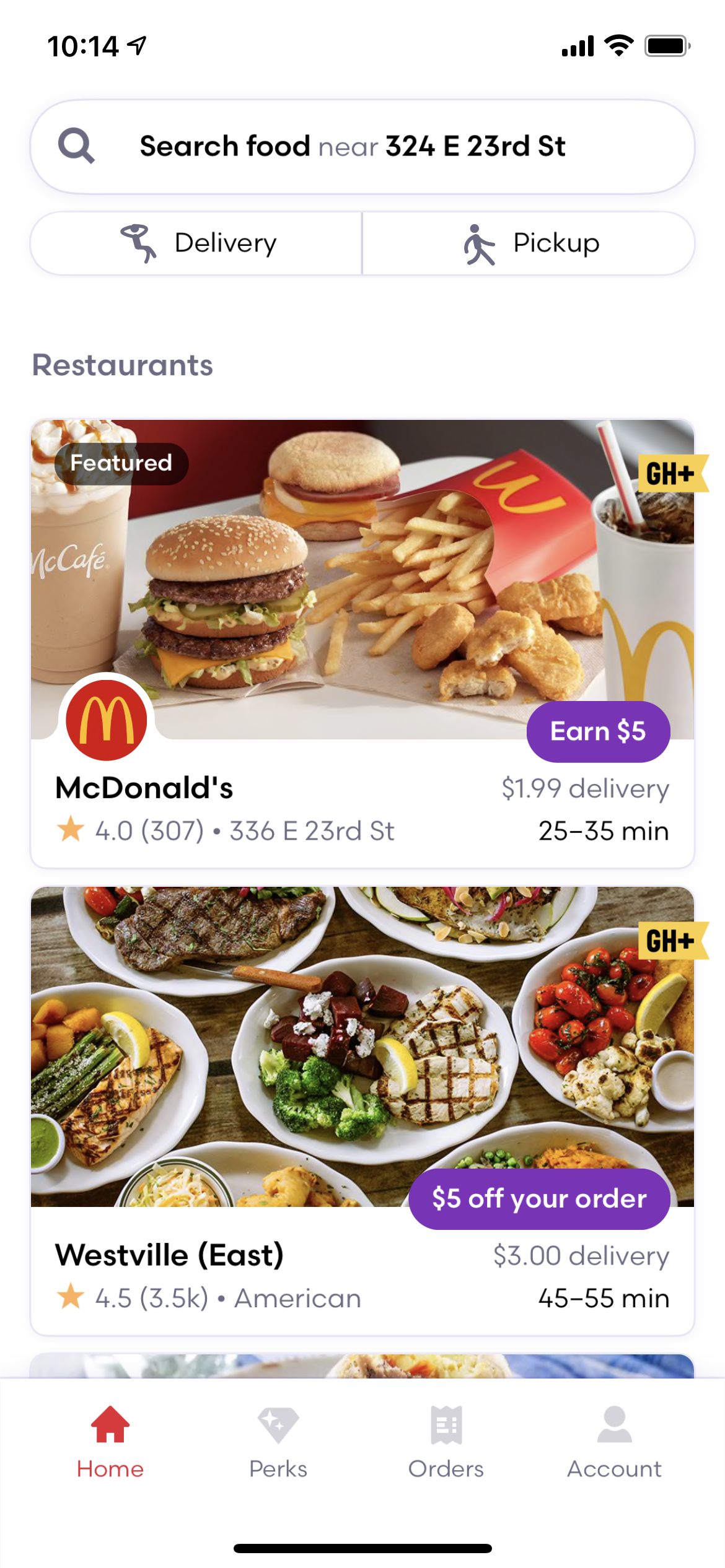 [Grubhub]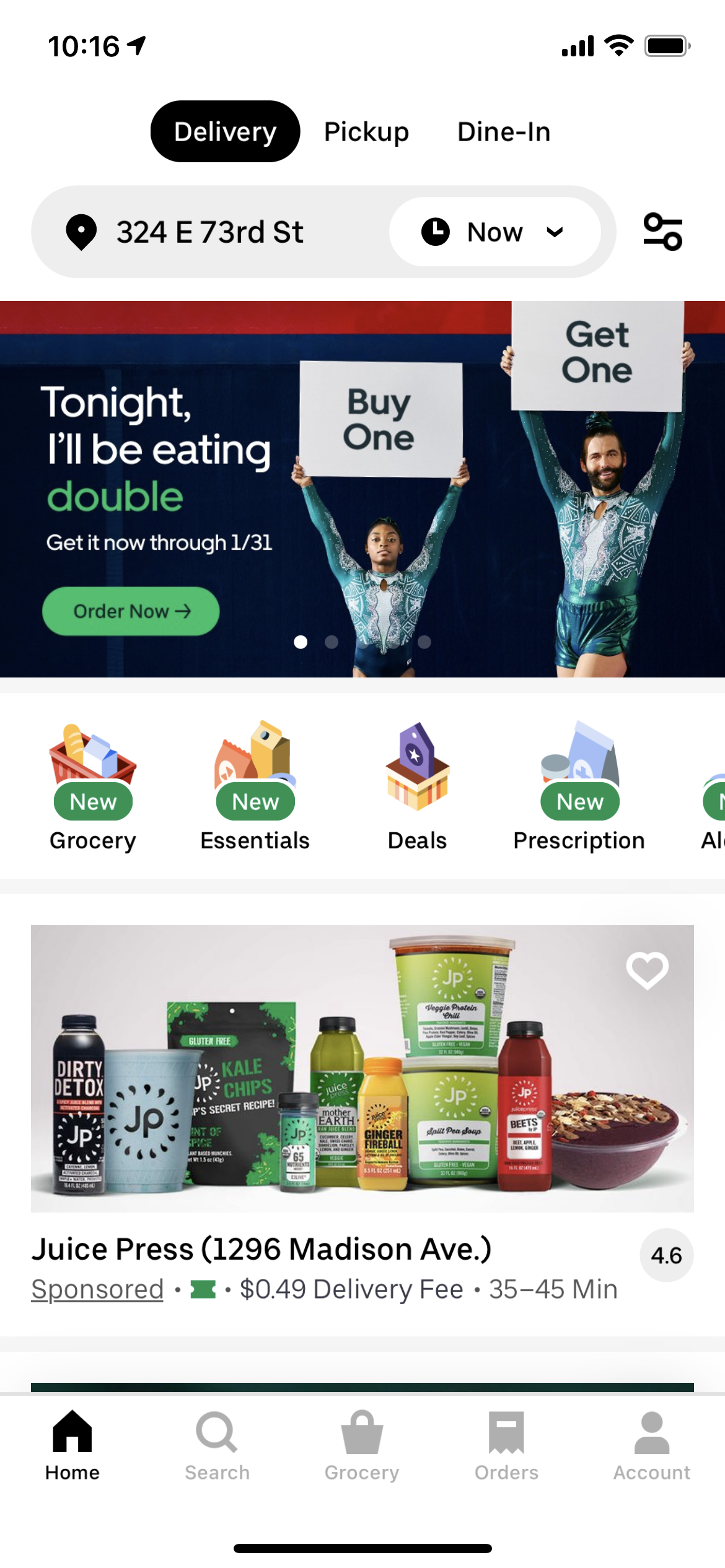 [UberEats]



To capitalize on the audience who just wants to order another meal of pad thai, hamburgers, general Tso's chicken, etc., I designed an interface that would allow users to directly look for and buy specific dishes they want.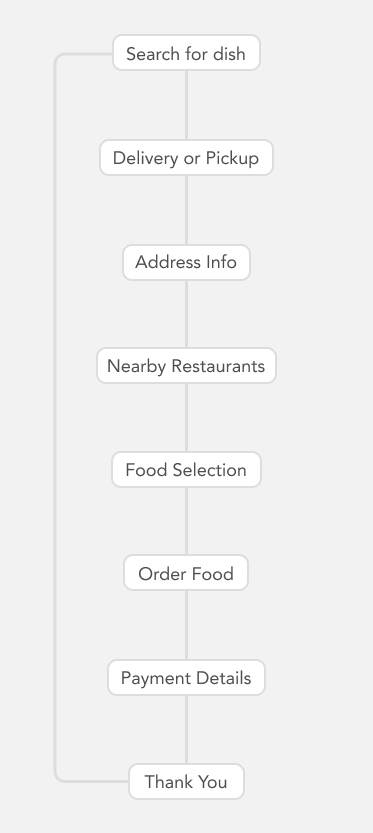 The information architecture for this interface shows similar results to any other food ordering service, but prioritizes the user's preferences first.

This system was designed to make decisions straightforward for users while asking them for minimal information as needed throughout the process.

I divided each step to balance user effort with user reward, making sure they don't get overwhelmed or lose interest by having to do too much on a page.

Note: I excluded an account setup system because while it can be added, it was unnecessary for the concept in this case study.






Being a food platform for ordering something you already know and want in the moment, I decided to build a theme around
"what are you craving?"
and I wanted the homepage to be just one search bar in the center to answer that question.
As a case study for this platform, I designed it to be adaptable to any device. I intentionally didn't limit the classification to solely a website or app or other branded service because the concept would be the same regardless.
I wanted the following screens to stay consistent with the white bubbles and red background, keeping the user engaged and satisfied when moving from one white box to another.

Rather than blasting viewers with food ads and discounts, there is nothing in the way for the user to search the food they want.


Once they input enough information, we can use it to find the best-rated dish of their choice from nearby restaurants. I use a map view to show the user's location and all the possible options.



Note the rating is for the specific dish, not the entire restaurant.

The circle is also where the location of the restaurant is on the map and it would change from green → yellow → red as it gets closer to closing time.



Because different restaurants sell the same things, it is helpful to know which restaurants make one dish better than another. For this, I've included customer reviews, but rather than rate the vendor as a whole, people review the specific dish they ordered.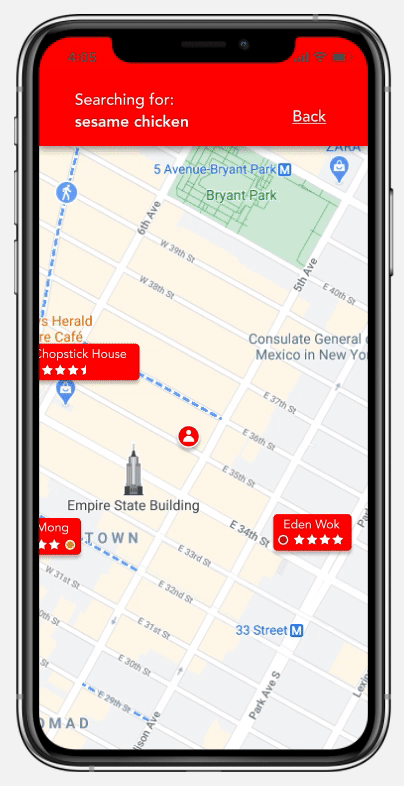 After reading the reviews, users go through simple food & payment details that organize information input based on the white bubbles.

Once the user places an order, they can click on links to track their order, see the receipt, and later make a review. Although not covered in this case study, it would be a simple email chain or account set up that can do that.

The main concern would be if the user wants to order another dish, in which they would be redirected back to the homepage to satiate another craving.



Instead of re-designing something as mainstream as a food-ordering app, I wanted to make it more interesting by fulfilling a different role. While this platform is certainly not for every audience, it provides a new perspective to what ordering food can be based off.

By making an interface from scratch, I still adapted very similar processes from current food delivery services, but transformed it to act better for a specific group of people. My visual decisions were guided by the user's desires. They want to see food with the best quality and closest to them, without getting annoyed by the information required from them.

With this high-contrast, minimal interface, it makes ordering easy and satisying for the people who crave a certain food and want the most efficient service to get it to them.