new feature.
------------
ILLUSTRATOR
FIGMA


Instagram Stories have become a standard for many users, with story highlights filling up the top row on the homepage. While the current horizontal scrolling method allows for a smooth transition between stories when watching them, it makes it unnecessarily difficult to find one specific person's story.

I designed a search bar that allows people to look for Instagram stories directly, without leaving their feed.

With only 4 and a half profiles on view at a time on the app, the row of stories limits the visibility of all the other accounts that have highlights to share. From just a quick survey of friends and family of various ages, the number of stories averaged to over 50 per day — that's a lot of scrolling.




Other factors that hinder story searching in this layout:

• ordering stories based on recent posts, making it hard to find a profile as their position changes when others add to their story.

• the horizontal row being at the top of the page, making it that much harder to reach.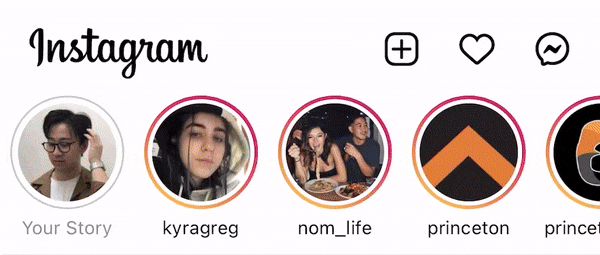 [Taken from my feed; scrolling through 58 stories]
The first problem was, how to incorporate a search feature into the story layout?

Instead of creating new visual cues/interfaces, I took advantage of Instagram's current horizontal scrolling system to squeeze in another one of their search bars on the left.



Without taking up space on the already well-developed feed page, a subtle yet quick swipe to the left and you can search directly for the story you missed out on.

Once you enter the search, the stories will align in a scroll-able grid and will narrow down based on alphabetical order as you type on the keyboard. At this point, you would be able to click on the story you want as soon as you see it, and then cancel when you're done.



Another thing to note is the dark, translucent background when searching for stories, instead of the solid white that Instagram usually uses, to remind users that they're not far from the feed page.

To tie it all together, I animated the wireframes and created a high-fidelity mockup of my search bar feature.




As my first case study for an app as polished as Instagram, I found it satisfying how directly impactful it can be. Hearing people say "Oh yeah, that would be useful" or "I thought that was a real feature" makes me realize even the most subtle changes can unlock new capabilities.

Redesigning this feature also made me think through Instagram's current UI and visuals, rather than inventing my own. I learned to adapt to their already extablished system, and find tweaks that allow me to add something users didn't even realize could be added.