website.
--------
PHOTOSHOP
HTML/CSS/JS
FIGMA



I designed the website for The VIS Junior Show, an art exhibition by juniors in the visual arts department. Normally the show would be in a physical gallery space, but due to COVID-19, it had to take a digital form. In collaboration with Kevin Feng and Eric Li, who coded the project, we wanted the website to still act like an exhibit, while reflecting the virtual changes we all had to make. The show launched in May 2020, not long after students were forced back home and had to finish their first semester virtually.

Visit the site here.

As you can tell from the title, we based our design from the zoom window that took over our screens since March. Using the zoom tab, we could use the participants list to fill in all the student names and link them to individual webpages for them to upload their work.

However, we still wanted to adapt the physical aspects of the gallery to the site, and so we designed each student page to horizontally scroll as they upload more art, as if the work was "hung" on the wall. We also provided a text box for general descriptions on the left, and links at the corner to reference portfolios or other work.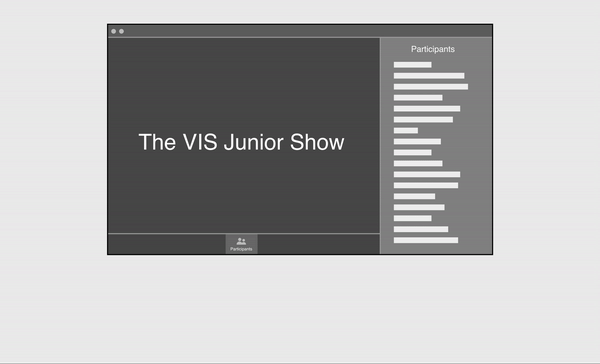 When designing the actual website, we used/edited a Zoom-call window and an image of a wall from the original gallery space we were supposed to have our exhibition.


Below are screenshots from different student pages:


Art Credits: Alejandro Roig; Ilene E; Benji Freeman; Victor Guan